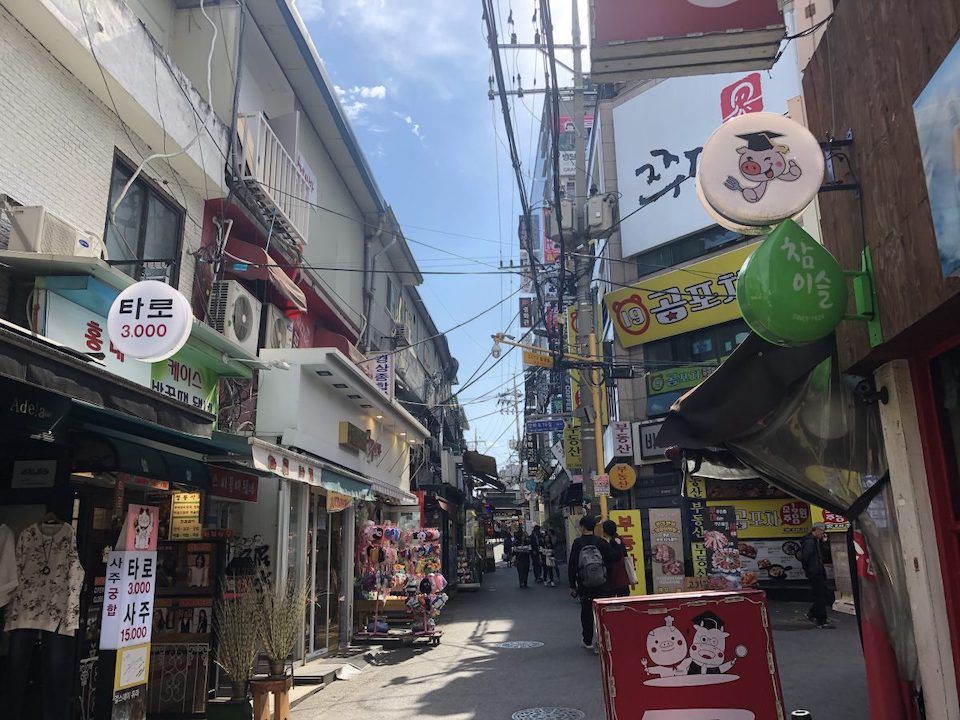 Zandari Festa, Seoul, Korea
*Started in 2012, Zandari Festa quickly established itself as South Korea's largest music showcase festival. The annual event takes place in Seoul's Hongdae area, the epicenter of youth culture in South Korea and ground zero for the country's indie music scene. For three days each October, Zandari Festa brings together acts and music industry professionals from around the world for concerts and conferences at more than 10 unique venues around Hongdae.
Landing in Seoul early Thursday morning after 18 hours of travel was quite the shock and the cities vibrant pulse showed itself right away. We decided before leaving the airport, smart/stupid, to go with the idea of killing jet-lag at once by staying awake the first full day, then we got us a nice driver and off we went to the city, with no real idea of what was to expect.
Three hours into our 76 hours stay later, after a shower and getting sorted in the hotel with an amazing view of the city we hit the streets for lunch in the neighborhood of Hongdae, same area as where the festival was gonna be over the coming three days. The welcoming was warm and the food was good, and sitting down without moving a relief.
A bit later on, early Thursday night, the opening of Zandari Festa took place at the double venue of The Stage and Convent. Everything seemed to be working just perfect and a lot of people started to check in, making it packed inside with a lot of catching up's going on outside. We hung out until 22.00 when we felt good about hitting the beds, staying awake for some cold 36 hours since leaving home.
Friday started by a great welcome and kick-off at the very nice Ryse Hotel, who hosted the conference and most of the delegates coming in from other countries. First shows of day two were held at Veloso, mid-day showcases are pretty nice and these were no different. Kinda like drinking before drinking time or something, a bit different. The rest of Friday went in style with a lot of shows at more venues in the Hongdae area, before we finished off with our own, Browsing Collection, just pouring out rock at the club Strange Fruit around midnight.
Saturday followed the same way, conference program during the day and then off to the shows at night. First off were Dabda, playing a great set in a surprisingly well equipped basement, hard to find but really rewarding once there. Same night we got probably the best show for the whole festival at the MUV Hall with Koreas own Idiotape on stage. Really intense, the all-in-electronic-dance-rock-trio were just amazing, and the energy onstage really carried its way to the audience. We managed to also see legend Glen Matlock along UK's Red Rum Club before calling it a night, well aware Sunday had a grim, early call to do the same silly hours going back to Europe.
All in all, Zandari Festa proved to be a wonderful event where the best feature must be the overall vibe the team behind the festival created. Zandari uses the slogan: "listen to music, drink beer, make friends" so that's what we did, and it worked really well. At all times all the people part of the festival were all smiles, and easy to approach and talk to. We met and hung out with a bunch of sweet people from England, Wales, Brazil, Indonesia, France, Netherlands, India, Belgium, Hungary, Thailand, Hong Kong, China, Singapore, Australia, and of course, Korea. To keep level all of the venues and the program were pretty much great most of times and the setting of Seoul as a city around the event made an impact as well, just constantly happening and every time we popped out on the streets after a show it was right there. Vibrant.
We can only say we hope to be back next year again. And the year after that as well. Repeat. Might wanna stay a bit longer tho as our 76 hours this time were packed and soo not enough.
Zandari Festa FB: https://www.facebook.com/pg/zandarifesta
Zandari Festa official site: http://zandarifesta.com