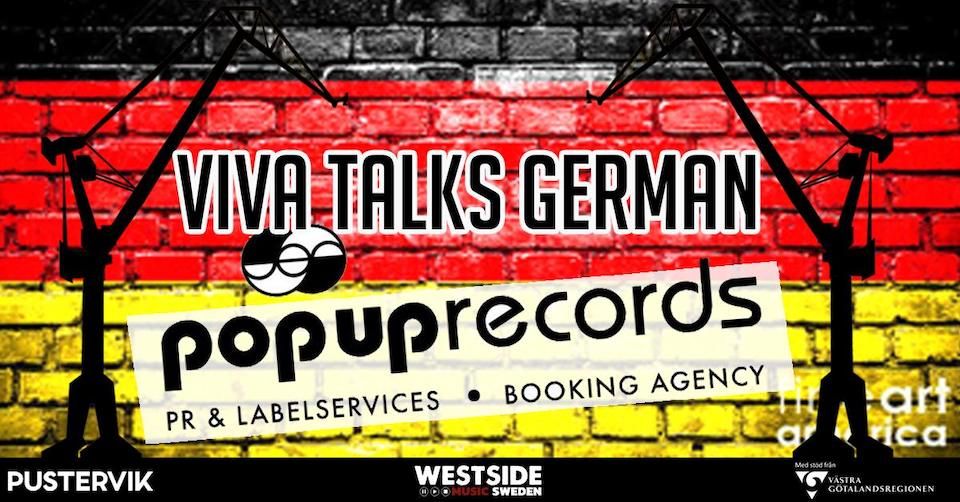 Viva Talks German
This year's last Viva Talks is hosted by Popup Records from Hamburg, a company which has been around since 2001 and is extremely well established in the German market. Popup Records will be in Gothenburg all day this Wednesday – and artists and companies have had the chance to book meetings with the company's three representatives, Jan, Giuliana and Quirin.
Popup Records is a record label and works with distribution, promotion, artist booking, publishing and concerts – pretty much everything!
The panel is conducted as usual in the dining room at Pustervik between 18.00-19.30, and all meetings have been booked between 09.30 and 16.00. There is still time to have a chat with any of the representatives after the panel discussion.
The panel consists of:
▪ Jan Köpke: started the company and has operated Popup since 2001.
▪ Giuliana Jacobi: label management, radio PR and social media.
▪ Quirin Fischer: PR and marketing, radio PR and online.
The panel is led by the eminent Christian Naumanen.
Popup Records is now one of Germany's leading public relations agencies and distribution labels for indie, electronic and alternative pop. The booking department was started in 2006 and has grown steadily to work with about 50 well-selected international and national artists today.
Popup offers customized promotional and marketing campaigns for its customers and can, with their knowledge and experience, as well as the advantage of being a "360 company", also offer individual solutions for distribution and publishing activities in the GSA territory. The company also books artists for festivals and is involved in Record Store Day for Germany, Austria and Switzerland.
Viva Talks is free and is aimed for musicians, music organizers, music companies and music enthusiasts. We think that it is about time that there is a given after work in a good place like Pustervik for everyone who likes and loves music, and who want to meet and talk music.
VIVA TALKS GERMAN
Pustervik – Wednesday October 23 – 18.00 – 19.30
Facebook Event
Popup Records