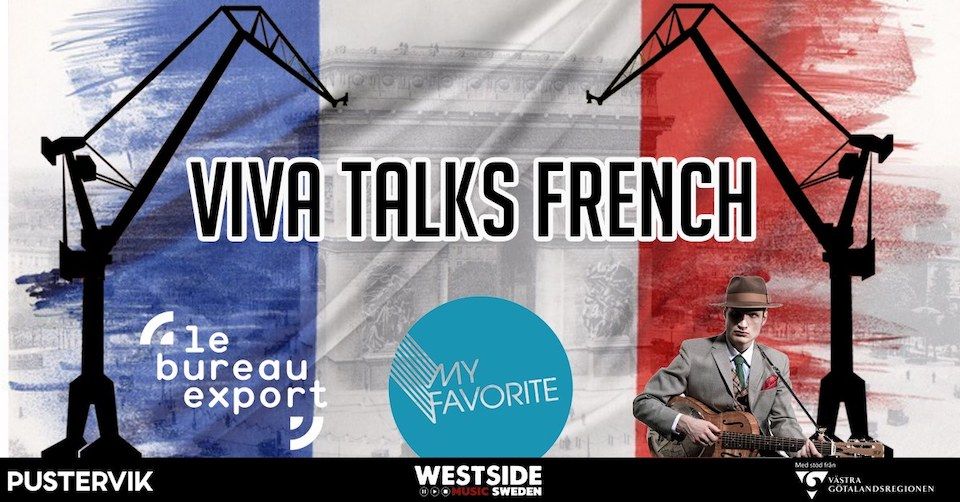 Viva Talks French!
We're keeping on keeping on rolling internationally and welcome you to a new session of Viva Talks. Order a baguette, some ratatouille with champagne and kick back – it's time to discover the French indie and underground scene.
Vive la France! During the first music-AW of the fall we'll meet Benjamin Demelemester from BUREAU EXPORT in Paris, Marine Serpault from My Favorite Agency and the Swedish artist Bror Gunnar Jansson. The talk will be moderated by Tatiana Madrid.
Many Swedish artists tour Europe and almost everyone stops in countries like Germany and Spain. However, between these giants lies another country which is almost totally overlooked. VIVA Talks French will illuminate the indie and underground scene in France and ask the question: why are there so few Swedish acts touring the country – and how do we push those number up?
The panel consists of:
▪ Benjamin Demelemester, project leader, Le Bureau Export
▪ Marine Serpault, agent, My Favorite Agency
▪ Bror Gunnar Jansson, artist
▪ Tatiana Madrid – moderator
Benjamin has a history as a booking agent for Zamora Productions, where he for twelve years booked shows and tours for the agency's artists. Nowadays you'll find him as project leader for Le Bureau Export, the French export office for music which started in 1993. Le Bureau Export has laid the impressive foundation for how todays export offices all over the world function. You'll find their mothership in Paris and their international offices in Berlin, London, New York and São Paolo. It sure would be hard to find someone more familiar with the French market than Benjamin.
As a booking agent, manager and promoter, Marine Serpault has worked for companies such as Savoir Faire, Bi Pole and Wartiste, today you'll find her at My Favorite Agency. She's involved in a bunch of different festivals, like Telerama Dub Festival and the new Rock Arabe Festival, which she started together with Guido Cesarsky from the band Acid Arab. Marine has an interest in developing her artists internationally and is always keen to explore other networks within the world of music.
Since 2012 Bror Gunnar has released three albums and one EP, together with a lot of touring as a one-man-band. The music places itself somewhere between dark folk and blues, an area where he's unthreatened. Bror Gunnar has so far achieved his greatest success in France where he's been touring diligently since 2014, including having two records being picked up by French Canal+ as "record of the week". French Rolling Stone Magazine, Elle, Les Inrockuptibles and France Inter have all mentioned him, publicity which have helped him reach the bigger festivals of the country. Next album will be released on September 20 and this fall you'll once more be able to see him out on tour, starting at Reeperbahn Festival on September 19.
VIVA TALKS FRENCH
Pustervik – Wednesday September 11 – 18.00 – 19.30
Facebook Event
Pustervik Calendar