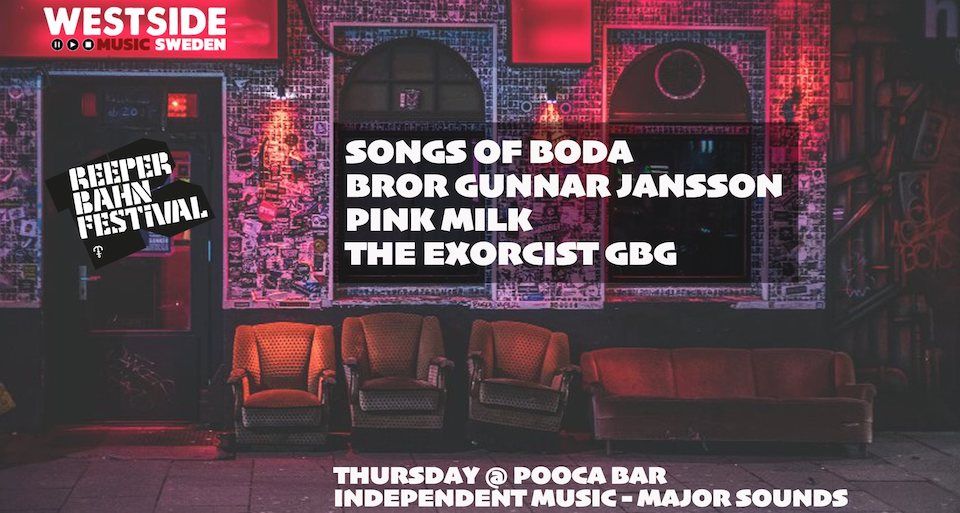 Reeperbahn, Hamburg, huh.
It's that time of the year again, when the streets get crowded and the bars fill up. No, not Christmas. This is better than all your Christmas celebrations combined – it's time for Reeperbahn Festival.
Once again we're heading to Hamburg together with four independent acts representing major sounds. Third year in a row at Reeperbahn Festival. Third year in a row at Pooca Bar. The place really feels like a second home by now and with just over a week left, we can't wait for it all to begin. With us we have The Exorcist GBG, Pink Milk, Songs of Boda and Bror Gunnar Jansson. Let's kick it!
We've seen them on bigger stages, equipped with monster speakers, strobes and lasers. But at Reeperbahn Festival and Pooca Bar The Exorcist GBG get the opposite, a tight venue which by 10 pm will be so hot and crowded that it'll consist more of sweat than anything else, which is when you think about it, really what a club festival is all about. Another one with his mind set on Hamburg is Tentakel, drummer of The Exorcist GBG.
− We don't care about stuff like stage size and capacity. Over the years we've been playing all sorts of places. The important thing is that we always try to amplify the energy from the crowd with 4000 Watt, says Tentakel.
Originating from the dark side of Gothenburg, The Exorcist GBG do seem like a good match for the Hamburg festival. And the fact that their latest single is called "Bahnhof" – well – it doesn't really make things worse.
− Reeperbahn do have an aura of decadence, filth and party, which means it's going to fit us perfectly, says Tentakel.
The Exorcist GBG is currently recording a new single, set to release later this fall or early next year. A good thing considering that Reeperbahn is the biggest club festival in Europe, with a lot of hungry industry people attending. Which by the way isn't anything that causes any stress with the three exorcists.
− We're just going to enjoy the festival and smoke a lot of cigarettes, says Tentakel.
Joining The Exorcist GBG on stage are Pink Milk, Songs of Boda and Bror Gunnar Jansson. A perfect combo between soft and hard, tears and dance.
Westside Music Sweden at RBF 2019
Words:
Wolfman Jackson