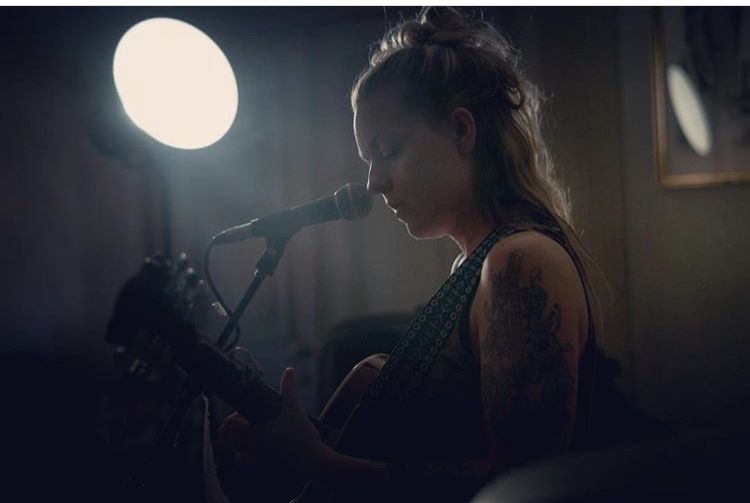 Roots, Bloody Roots!
Much has happened to Lisa Wanloo this year. In February, she went and played at "Make it Loud" in Kiev, Ukraine which she described as "Cold as hell and everything was very, very brown. But still an awesome experience, Ukranie is not the first place you think of for gigs nor holidays."
After that she went on a week-long tour in Denmark, Sweden and Norway together with Danish Marí and Norwegian Vi og Du. In May she supported both Berg and Bedragare and Vånna Inget, of which the latter gig was sold out.
How did it feel to play in your hometown Gothenburg again?
"It was really nice to play at Sticky Fingers. A good stage with great sound, that evening was really successful. Before the Vånna Inget gig I felt it was a bit more nervous when we are quite different in our styles, but it was the organizer's thought to dare mix and see what it gave. I think it's fun to try new things. But I always feel nervous to play before people that I know.


Now it's time for the summer adventures and first out is Bloody Roots in the Netherlands. Bloody Roots focuses mainly on the Americana, Blues and Real Roots genres. Lisa's music may not be quite distinct those, but she has a good feeling for the festival and has the idea that she will fit well on the bill. It is the first time in the Netherlands and she will stay a few more days in Amsterdam.
"I got the impression that Copenhagen, on the other hand, is more serious. They have been super good with everything as technology and time-sheet and all that stuff. It really feels more like a showcase gig. But it's fun with the contrast between the both. Some are chill and others are more serious. But at the same time it feels safe that they are so careful, then there will rarely be any troublesome surprises or "last minute" solutions when you arrive."
Lisa Wanloo picked up a guitar about four years ago. "I had not done so much until I was 26, today I am 30. In the beginning I could neither sing, write music nor play guitar but it has grown ever since. I am curious and I am trying not to stop developing." The first gig took place at a café at Järntorget, 2017. "I was really nervous, I am always nervous and even scared but I am trying to work a lot with myself. It is important to challenge yourself so you grow. " She continues; "Now I have started to think more about how it should sound live. In the beginning I did not think of it at all, but the more I learned about everything technically, I get more to "my sound", plus I develop my artistic side.
When can we expect new material?
"I have some stuff going on, I will record some demos, drop some singles and slowly start working on an album. I would love to cooperate with others, but I do not know yet in what way. It's about maybe finding me a "band" – someone who can play different instruments, right now my boyfriend Kim (Ruiz) plays with me on some songs live and it works fine. But it would have been nice to get some help with everything around. "I hope to release new material in the fall, hopefully I will find someone who wants to put it out, otherwise I´ll do it myself. Kim (Ruiz) will record my songs this time. The first recording took place in Welfare Studios together with Per Stålberg. Lisa was very satisfied with it but this time she wants to be more involved in the process. "Per really understands music, he is absolutely fantastic. Very pinpoint with the sound. So I take this with me and hope to be able to develop even more with the next recording."
Words: Püssygrinder LaGrange
Photo: Zainab Arshad
Lisa Wanloo
https://www.facebook.com/lisawanloomusic/
Where: Bloody Roots July 13 – Groningen, The Netherlands
https://em2groningen.nl/event/bloody-roots-festival-zaterdag-13-juli/
Copenhagen Songwriters Festival August 29 – Copenhagen, Denmark
http://csf.dk/