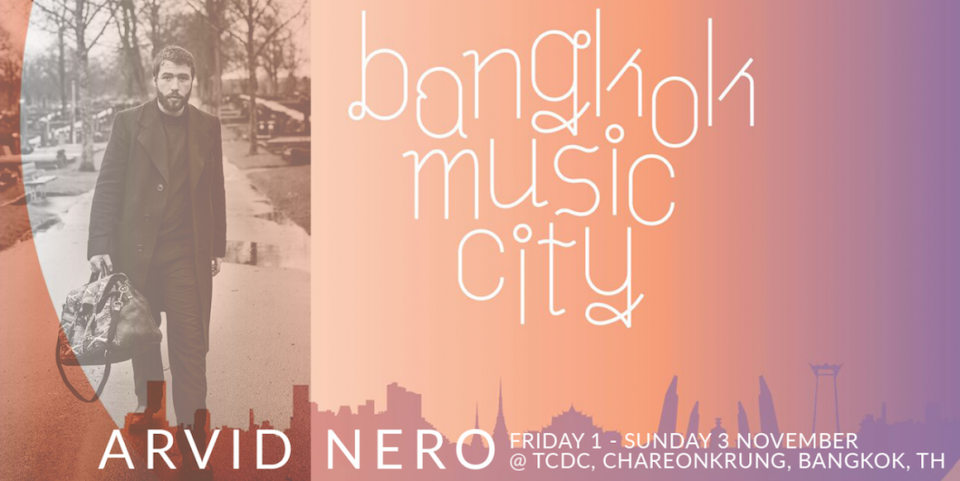 One night in Bangkok
We´re getting closer to the end of the year 2019. On one hand you could think that we´re all laid back and set for Viva Sounds but on the other one that´s just too boring to be doing only that, so… we have one more ace up our sleeve for you!
Thailand is well-known for its delicious food, beautiful nature and rich cultural heritage, but they also wants to be recognized as a music tourism hotspot. We´ll be headed to Thailand for the brand new Bangkok Music City on 1-3th of November, and we'll be taking the brilliant Arvid Nero with us.
'Bangkok Music City' or 'BMC' is a project co-founded by Fungjai – a music platform, media, event organizer and marketing agency; and NYLON Thailand – a media, publishing and event organizing company. Both of them are deeply involved in the local music scene of Thailand and understand it´s potential to become one of the nation's economic drivers.
Both companies want to establish Thailand as a world-class music tourism destination as well as create a global platform for Thai and Southeast Asian musical artists. They also want to encourage international music business connections; and support the sustainable development of both Thailand and the region's music industry.
Arvid Nero released his debut album "Mother Earth" in 2018 and received fine reviews from Dagens Nyheter, the Gothenburg Post and from Gaffa. Musically, Arvid moves in a collection of different genres, from the deep, bluesy feeling through a well-worked soundscape. The songs are flirting with both country and soul. The lyrics build stories that are interwoven by a melancholy and highlighted by a voice that goes straight into your soul.
Bangkok Music City on Facebook
Westside Music Sweden on Facebook
Words: Püssygrinder LaGrange