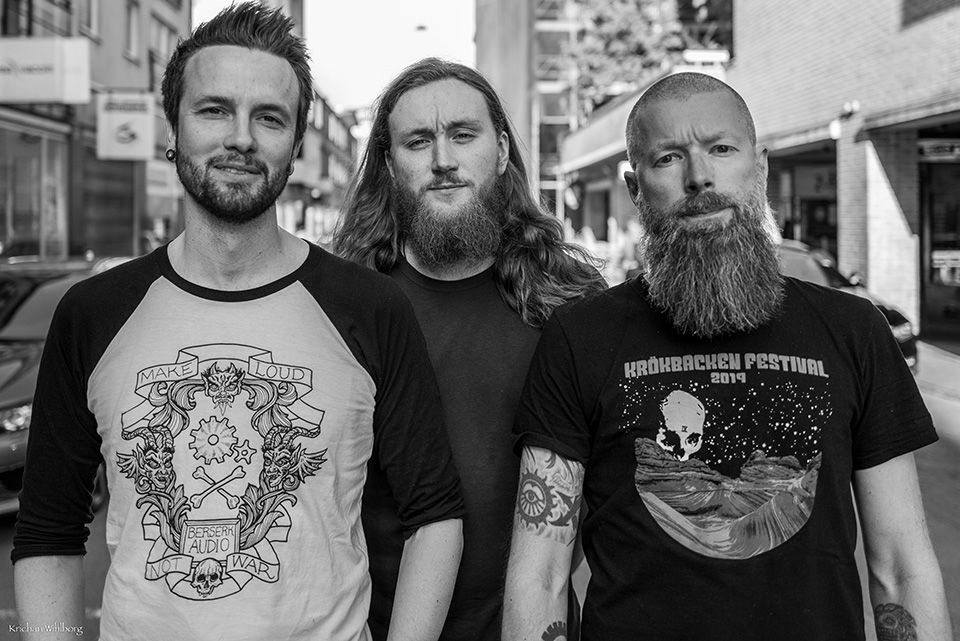 From the Abyss to Mars
A classic power trio, with shared lead vocals as well as some synths and electronics tossed into the heavy noise of drums, bass and guitar.
Cities of Mars hails from Gothenburg and started out as a band in 2015. We caught up with the band when they recorded their Messed!UpViva Session at the Abyss in Gothenburg.

– From day one, Cities of Mars decided to bring a holistic concept into everything we do - the band name, lyrics and music. Every song is a chapter in an unfolding story about an ancient civilization on Mars, re-discovered and awakened by a KGB cosmonaut in 1971, Daniel Palm, singer and bass player says.
Since releasing their first single and playing their first gig at the Wizard of Fuzz festival in 2015, the band have been working hard and have done more than seventy gigs in twelve countries. During their career the band have released a 4-track vinyl EP and two albums; Temporal Rifts and the 2019 album The Horologist - all songs adding to the story.
– The music is slow, heavy and dark with sections of atmospheric soundscapes, reflecting the story of the songs which have several lead characters and a narrative that spans 9000 years, back to ancient Atlantis on Earth, Daniel says.
Cities of Mars had a 13-date tour booked for western Europe in late April that they had to cancel due to Covid-19, as well as another 12-date tour in October. Daniel tells us that the extra time on their hands will be used to develop their sound even more and craft even better songs. And, with the newly upgraded rehearsal space with better recording equipment working on new ideas will become much easier.
– We are super disappointed of course, but since we are very fortunate living without lockdown, we understand that the situation still could have been much worse. We were also planning to release a single with a few new songs, trying out some new sounds and working partners, he says.
Coming from a scene that is largely built upon DIY with everyone getting by on little money, the band recognizes the struggles venues are facing trying to survive the pandemic. At the same time, questioning if the subculture will be able to withstand the effects of the pandemic and economic crisis ahead.
– We are still very fortunate as people and a band since we don't depend on gig revenues to make a living. So, we are worried about the scene and all the great people in and around it - can we and bands like us get out there and play live again in 2021, Daniel says.
Recording a Messed!UpViva Sessions means playing in front of nothing but cameras in an empty venue which is far from a normal gig for any band. Having played at the Abyss, one of the few remaining venues in the city center still bringing heavy live music to the people, several times before we were curious to know how Cities of Mars found the experience this time.
– We were very happy to be given the opportunity! It was an unusual experience to play for only cameras, but we hope that we can share the songs with a lot of people that wanted to see us. I think we managed to get some good energy across anyhow. But a good crowd would have been nicer of course, we sure miss the whole live situation, Daniel says.
We couldn't agree more and since nobody knows when we will be able to enjoy live gigs, at least not in the way we are used to, again we asked Cities of Mars to share one of their best concert memories with us.
– One of our best gigs we ever did was in Le Mans, France, at Le Lezard a few years back. No stage, only a tiny vocal PA in the smallest of bars. The place was packed and in this cramped space we were really feeding off the energy of the crowd and played until the windows were steaming with sweat. After the show we made a lot of new friends and discovered another city that we might not have visited if not for touring. It really sums up the both great things about playing live - meeting new people over a shared passion and seeing new places, Daniel says.

*Cities of Mars @ The Abyss, (Messed!Up Viva Sessions) will be premiered on YouTube this Friday, June 12th, at 16:00 (UTC+2).

Cities of Mars - Facebook