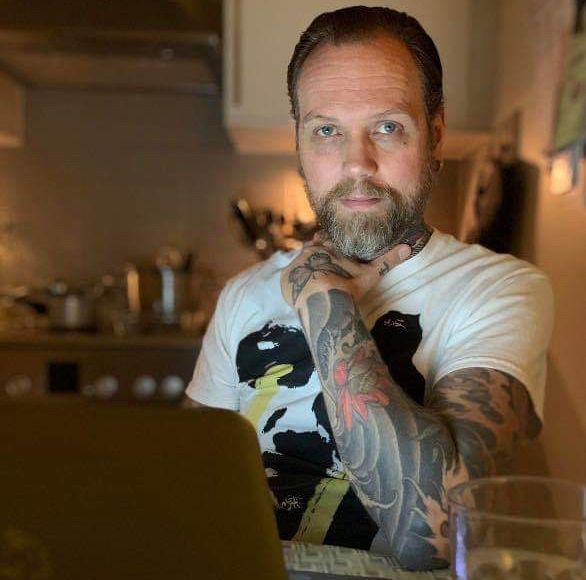 Get to know Suicide Records 
Westside Music Sweden got 32 independent music business as partners, but who are they and what do they do? We want you to get a chance to know them better! We'll start with Roger Andersson at Suicide Records. His signing Novarupta is nominated for "Best Metal" at Manifestgalan 2020, taking place this Friday (Feb 14th) in Stockholm.
Please tell us a bit about Novarupta and your expectations for Manifestgalan 2020.
- In my opinion Novarupta is more of an art project than a band. Alex Stjernfeldt is the genius behind the project. I met Alex the first time at The Abyss for a Let Them Hang gig (which is one of Alex's several projects). I felt pretty quick that we were probably the same birds of a feather. Not long after I received a draft of a song for a project he chose to call Novarupta. I got totally hooked!
Novarupta and the album Disillusioned Fire is a very special album, where Alex stands for the framing and writes all the music and different vocalists contributes with sprinkles. Just that the Disillusioned Fire album is nominated is an honor, and I think it deserves to win!
Tell us a little about your background - why did you start Suicide Records & what has the company meant to you?
- I've always been involved in music, one way or another. Rode with bands as road crew, driver, selling merch and so on. I began as a drummer in a lot of bands in my teens, but I realized over the years that I was not good enough or motivated enough to invest in the drums fully. I had a period of heavy abuse that occupied all my time and all my physical and mental resources but after a year of treatment, I found my way back to music and wanted to do something more with it. I needed to get an outlet for the chaotic creativity I had inside me and decided to start a record company (2006) to release music that I appreciate.
In this way, I feel that I can participate and create something that is available for others to share. Through the record company I have been able to meet so many different people who all share the passion for music but from different inputs. Suicide Records has (hopefully) been the first step on the path forward and upward for the bands we've worked with. Even though the company is something I do after my day job and after family-related stuff like reading homework and horse riding, Suicide Records is something I carry with me 24/7. I've always said that the company is my third child. I think I feel so strongly about it, because it was the first positive, creative thing (after my first child) that gave me joy in life again.
Your thoughts on Gothenburg's music climate?
- I think we have a lot of luxury, basically all bands, big and small, wants to play here. However, that's also the dilemma. Since we have the opportunity to access such a large music offering, we're also spoiled. This makes it very difficult for promoters to make ends meet, which also makes them not so willing to take chances with bands that are not so established, it becomes a vicious circle.
I know several promoters who are extremely passionate about the music scene and who would like to participate in the re-growth of it, but because of the conditions, they can't do it to the extent they wish. And this thing with smaller gigs that cost 50-80 SEK, I think is completely crazy. I think it should cost at least 100 SEK. If you go to a show with 3 bands, then you pay 33 SEK for each band. I know culture should be something that everyone should be able to afford, but if we who consume it do not provide better conditions for the promoters and the bands no other shows than those offered by the major commercial companies will soon be offered, and then they are the only ones who decide what is offered to us. I'm not bitter, I'm worried!
What has Westside Music Sweden meant or been able to help you with?
- The fact that Suicide Records is part of Westside Music Sweden has meant a lot to us. It has given us opportunities that we ourselves could not achieve on our own. For example, we have been able to send bands on gigs and tours that were only possible thanks to support from WMS. We reach out with the company and our roster to new networks that give us more opportunities. Being a partner in WMS together with the others has also made it possible for us to have a better and closer relationship with the other music companies and organizers from our area.

What would you like to see more of in the future in the Gothenburg music industry?
- I would like to see more clubs that starts and getting good enough conditions to put on more new and small bands, without risking to end up in debth. I want to see an increased support from the city towards the independent cultural life in general, enabling more clubs to start and operate, and more promoters to be able to book new bands in safe, secure premises without having to compromise with their art.

Thank you for your time Roger and we'll keep our fingers crossed this Friday!

* Vocals on the record by Novarupta are done by:
Mikael Stanne - Dark Tranquillity, Jörgen Sandström - Krux, ex-Entombed, ex-Grave, Martin Wegeland - Domkraft, Tomas Liljedahl - ex-Breach, The Old Wind, Claudio Marino - Tid, Joel Segerstedt - The Open Up And Bleeds, Jonas A. Holmberg - This Gift Is A Curse and Ossian Reynolds - Lola Zaza.

* All nominees at Manifestgalan, metal:
Novarupta – Disillusioned Fire (Suicide Records) - Ultra Silvam – The Spearwound Salvation (Shadow Records) - Vokonis – Grasping Time (The Sign Records) - Skraeckoedlan – Eorþe (Fuzzorama Records)