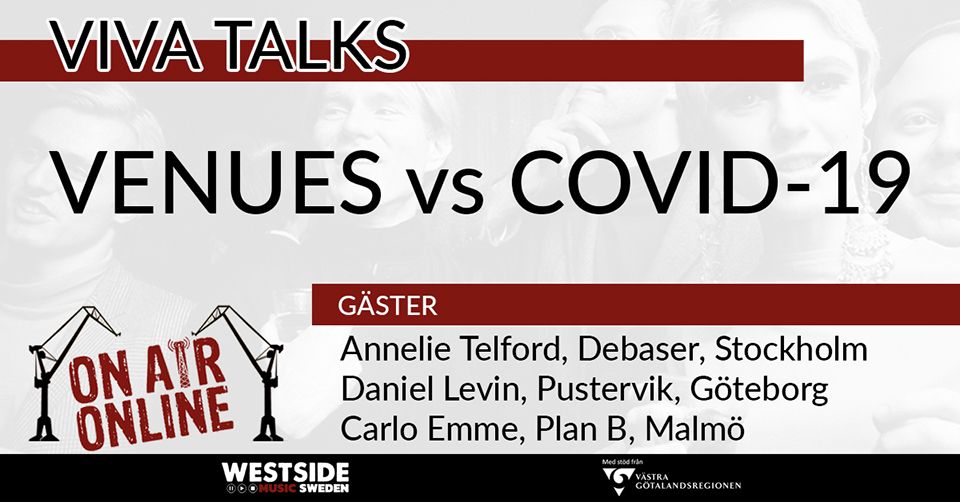 VIVA TALKS: Everything was cancelled within three days
Viva Talks goes online as public gatherings are prohibited. How does the current situation affect the music industry in Sweden, and the live market especially? We talked to Debaser, Pustervik and Plan B, three of the most prominent venues in Sweden to find out.
Our first episode online is about venues, of course, as without them the possibly most important part of the infrastructure around the music industry will be gone. Everyone's aware of what's happening in general with cancelled events dropping like rain at the moment, but what's their strategies to survive, and what's being done at the moment? We'll talk status, future and hopes - and hopefully share some light to the troubles they are all facing.

To answer these questions we invited guests from three swedish venues to give us some insight on how they have been affected. Tune in to watch Annelie Telford from Debaser in Stockholm, Daniel Levin from Pustervik in Gothenburg and Carlo Emme from Plan B in Malmö in a discussion about the current situation.
Note: this talk is in Swedish, but there will be episodes in English as well.

Usually, Viva Talks got the ambition to create a forum where the local music industry in Gothenburg and around can meet and exchange ideas with the international guests we invite, as a pretty decent music after-work. We've done it for some time, we love it and we had a great program planned out for the spring, but for the time being and for obvious reasons we're now bringing these chats online to keep the business as un-usual.

Debaser - Official Site
Pustervik - Official Site
Plan B - Official Site